The Interview Issue (Print)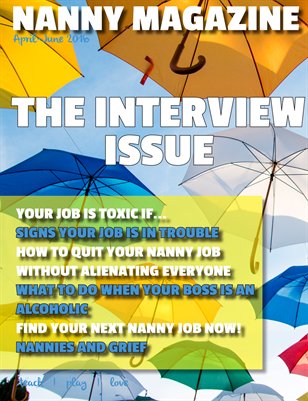 The Interview Issue (Print)
Don't apply to a single job without first devouring our interview issue.
Articles in this issue include:
Dress for Interview Success
Best Questions to Ask During Interviews
Make LinkedIn Work for You
How to Know if Your Job Is Toxic
I was unjustly fired. What is my legal recourse?
Ace Your Interview Tips
Signs Your Job Is in Trouble
Master Your Portfolio
How to Quit Your Nanny Job
AND MUCH MORE
Supplies are LIMITED.
sale
Provide a valid U.S. shipping address.
Disclaimer: Nanny Magazine is not responsible for any of the content contained in articles; use your best judgment and consult with professionals as needed to find the course of action that is best for you.