Digital Single: The Education Issue (July 2017)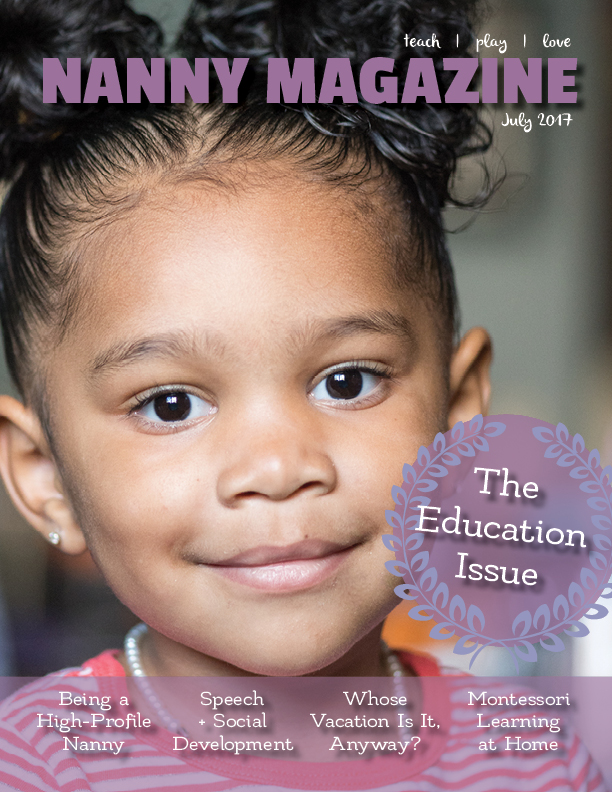 Digital Single: The Education Issue (July 2017)
TABLE OF CONTENTS
July 2017: Education Issue
Dr. Jessica Richards answers reader questions about ear infections
2017 Nanny of the Year Candida Vajana shares practical advice about working out all the details of vacationing with NF
Quiz: what type of vacation should you take this summer?
Stephanie Felzenberg of Be the Best Nanny Newsletter shares advice on ways to stay active yet cool with the littles this summer
We review junior foodie gear. Thanks, Amber O'Neil!
An exclusive interview with Kat Lord and why you need to learn her name STAT.
Practical must-know nanny advice: how to file for unemployment
Carol Abrams shares the qualities high-profile families look for in a nanny
The rise of nanny jobs and what it means (no, the robots aren't taking over!)
Alyssa Zebrowski, an alum of Eastern Connecticut State University, writes "8 Things I Learned As an Education Student That I Use as a Nanny"
The unexpected Influence of nannies on speech & social development
Lolly Nichol, alum of Central Connecticut State University, shares tip on teaching kids about going green
Our own Jill Ciganek shares the importance of education for nannies
Tips for working with families who don't believe in discipline
Glitter play clay recipe you and your charges will absolutely LOVE, thanks to the crafty nanny!
Montessori/Reggio-Emilia-inspired learning at home, brought to you by JoAnna Becker.
Nannies and the legging craze!
A simple greek chicken recipe
+ NM's VERY FIRST poem!
sale
Read this digital edition on any device, including iPhones, iPad, PC/laptop, and other smart devices.
Note, this eEdition is free for subscribers with a digital access plan. Not a subscriber yet? Become a subscriber now.
A download button will appear after payment; if you click away from your screen too quickly, check your email. The digital download option will be emailed to you.
Sharing of digital editions isn't cool; it's copyright infringement! As such, we'd appreciate that you not share issues. Single-subscription purchases are for one person only.